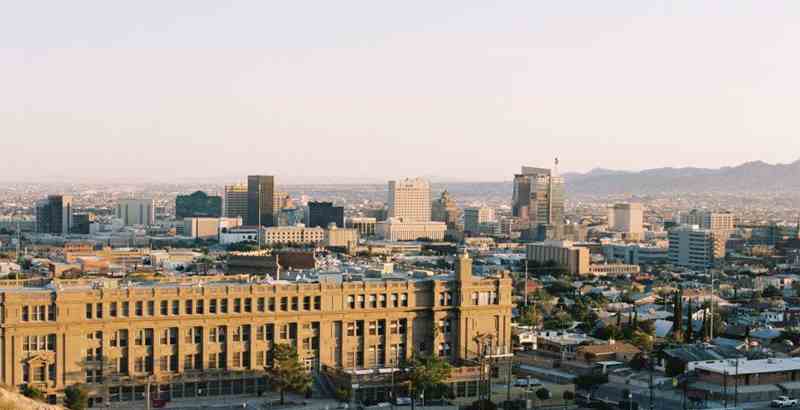 El Paso Tourist Attractions
El Paso is a city located in the most western corner of Texas, US, that is bordering the Mexican city Ciudad Juaréz that sits right on the other side of the Mexican-United States border.
El Paso's population is 81% Hispanic and it has a high military presence, but it there are also a lot of things to do and experience here. The culinary scene is growing, and there are many historical places to visit and beautiful sceneries to enjoy in this vibrant and multicultural city.
We have listed a few things to do and explore in the area and added the links to the official website for the various activities and sites. At the end we have also added a link to an activity, a tour, found on getyourguide.com, a website that lists various excursions and tours found in different locations around the world.
Hueco Tanks State Park & Historic Site – The Hueco Tanks State Park & Historic Site is a sacred desert sanctuary located 45 minutes from downtown El Paso. Hueco Tanks are naturally formed rocks shaped into tank like formations that collect water and both animals and people have travelled here for thousands and thousands of years for the water. Today visitors come to explore the area, hike, rock climb, bird watch, and much more.
El Paso Museum of Art – El Paso Museum of Art is the only art museum to be found within 250 miles, at least in the US. The museum has more than 7,000 pieces of art from Europe, Mexico and America with a main concentration on the 12th-century and beyond. The art pieces in the collection are by both famous and relatively unknown artists. It consists of portraits, paintings, photographs, prints, posters, drawings and more. The museum also provides interactive activities like workshops and classes for both children and adults. https://epma.art/
El Paso Zoo – El Paso Zoo is a fun visit while in the area. It is accredited by the Association of Zoos and Aquariums (AZA) and hosts a mix of different habitats and it is the home for a range of species mainly from Africa, the Americas and Asia, as well as from the Chihuahuan Desert itself. The zoo sits on 35 acres of expansive green land divided into habitats especially designed for the animals that live there.
El Paso Municipal Rose Garden – The El Paso Municipal Rose Garden is a very beautiful place to visit, especially for those who like roses. It opened the doors to the public in 1959 and it has been growing since. Today it is at a four-acre size. The garden is filled with 320 different varieties of roses on close to 1,500 individual bushes and new roses are planted each year. The Garden also sports a Koi pond, a waterfall, trees and shrubs for added tranquility and serenity.
Viva! El Paso – If you happen to visit El Paso during the months of June-August this annually performed musical is a must, although the exact dates and period of performances vary from year to year. The musical is a celebration of the story of El Paso dating back to Native American settlers through the Wild West, the conquest by Spain and the control by Mestizo Mexicans performed by 50 dancers through song, dance and drama. Tricks of all kinds are used and include cannon fire and acrobatics, and after each show the Parade of the Six Flags is held. The slogan is "Four Centuries, Four Cultures, One City".
Western Playland Amusement Park – Western Playland Amusement Park is a place full of fun for anyone who enjoys joyrides. The park was previously located in El Paso, Texas but was moved to Sunland Park, New Mexico in 2006, only a 15-minute drive from El Paso. The amusement park is the home to rides like Tsunami, Bandido, Drop Zone, Hurricane and many more. It sits right opposite the Sunland Park Casino.
St. Patrick Cathedral – The very first stone for the cathedral was blessed by Father Francis Roy and Father Edward Barry before it was laid on July of 1914. It was designed with a unique mix of Byzantine and Romanesque influences making it a beautiful and interesting architectural uniqueness. It was designed by the St. Louis architectural firm of Barnett, Haynes and Barnett, and built by contractors Kroeger, Mayfield and Shaw of El Paso. The cathedral is located in downtown El Paso and is one of the city's historical landmarks.
El Paso Museum of Archaeology – The museum is located in area near several archaeological sites and it has preserved a collection of permanent archeological artifacts that reflects 14,000 years of the areas pre-history. The exhibits go back all the way to the Ice Age and it shows the progression of civilization from then on and forward and include Paleo-Indian hunters, Native American settlers and any other civilization that existed in the area of El Paso and Northern Mexico. Some exhibits are permanent other exhibitions are temporary.
El Paso & Juarez Downtown Historic Walking Tour
It is important to wear comfortable shoes and bring your passport for this tour as it is a 4-5 hour long walking tour of El Paso and Juarez.
Participants will meet their friendly guide at the border between the two cities before heading into El Paso and Juarez.
During the tour the guide will show the group how this part of the world has evolved into the cultural hub that it is today.
The tour guide will take the group to see iconic landmarks such as San Luis Exchange House, Old Mayors office, the Cathedral and Plaza de Toros Bullring as well as down downtown Juarez for some shopping and also to visit the Markets.
Food and drinks are not included in the price, but will be available for purchase during the tour, but entrances to museums, such as the Revolution Museum, are included.
UNBEATABLE VALUE CAR RENTAL

FREE
Amendments,
FREE
Cancellations,
NO
card fees!

airport_shuttle Need Airport Transfers?
Useful Information about El Paso Airport